We are affianced manufacturer of Volute Springs in India. Our Industrial Volute Spring are widely used in steel industry for various applications. The volute spring is almost similar to compression spring having cone shape. The Startling of the Volute Spring if thinner gauge of steel strip up to heavy section flat. This high quality chrome plated volute spring retains its action over a long and trouble-free period.
Industrial Volute Springs
The Industrial Volute Spring supplied by us is corrosion resistant springs, accurate in direction and precisely engineered. The springs are available in customized shapes like round, flat or square material. With the rising demand of the clients we export quality volute springs to the customers in national and international market.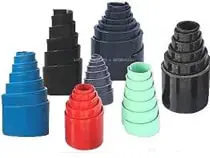 Stainless Steel Volute Spring