Mahalaxmi is a leading manufacturer of Industrial Spring available in customized shapes and sizes. Our springs are made of reliable quality steel which is flexible, durable and rust proof. The Industrial Spring supplied by us have open or closed end coils, tapered ends, barrel shaped,or waisted, end ground square, progressive rate or conical.
These find application in varied industries for differential purposes biz battery springs, irrigation equipment, textile springs, automotive industry, electrical appliances and for other mechanical purposes.
We stock industrial springs to serve the exact requirements of the clients in domestic and overseas market.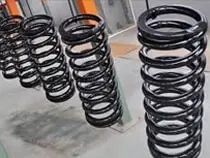 Industrial Stainless Steel Springs